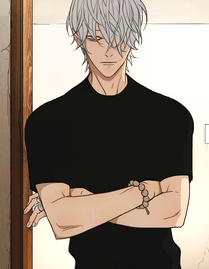 Description & Plot
Edit
She Li is a nickname. Real name not yet known.
He always wears two silver rings and a strand of Buddhist beads around his wrist.
She Li is reportedly the head school bully in junior high, but does not seem to be a match for He Tian in a one-on-one fight.
He appears to initially have started off to revolve around Guan-Shan as a catalyst for his character development and the antagonist for the story arc, but upon rereading, he was interested in Jian Yi from the very beginning.
She Li unofficially debuted in chapter 117, listening into a conversation to find out Jian Yi's name. His face is not seen, but the rings and beaded bracelet are dead giveaways. He doesn't show up again until chapter 177.
After meeting Jian Yi in person face-to-face, he sits in the car and thinks about how nice Jian Yi's skin looks.
The next time he encounters Jian Yi, he is assaulted with a bottle of juice for sneaking up on him. He takes his shirt off and tells Jian Yi to lick it clean.
He has pale hair, yellow eyes, and no eyebrows, like Jian Yi.
Like He Tian, he started out as a nameless faceless background character who rose to the surface.
In September 2017, Old Xian released a series of chibis, revealing that She Li was merely his nickname.